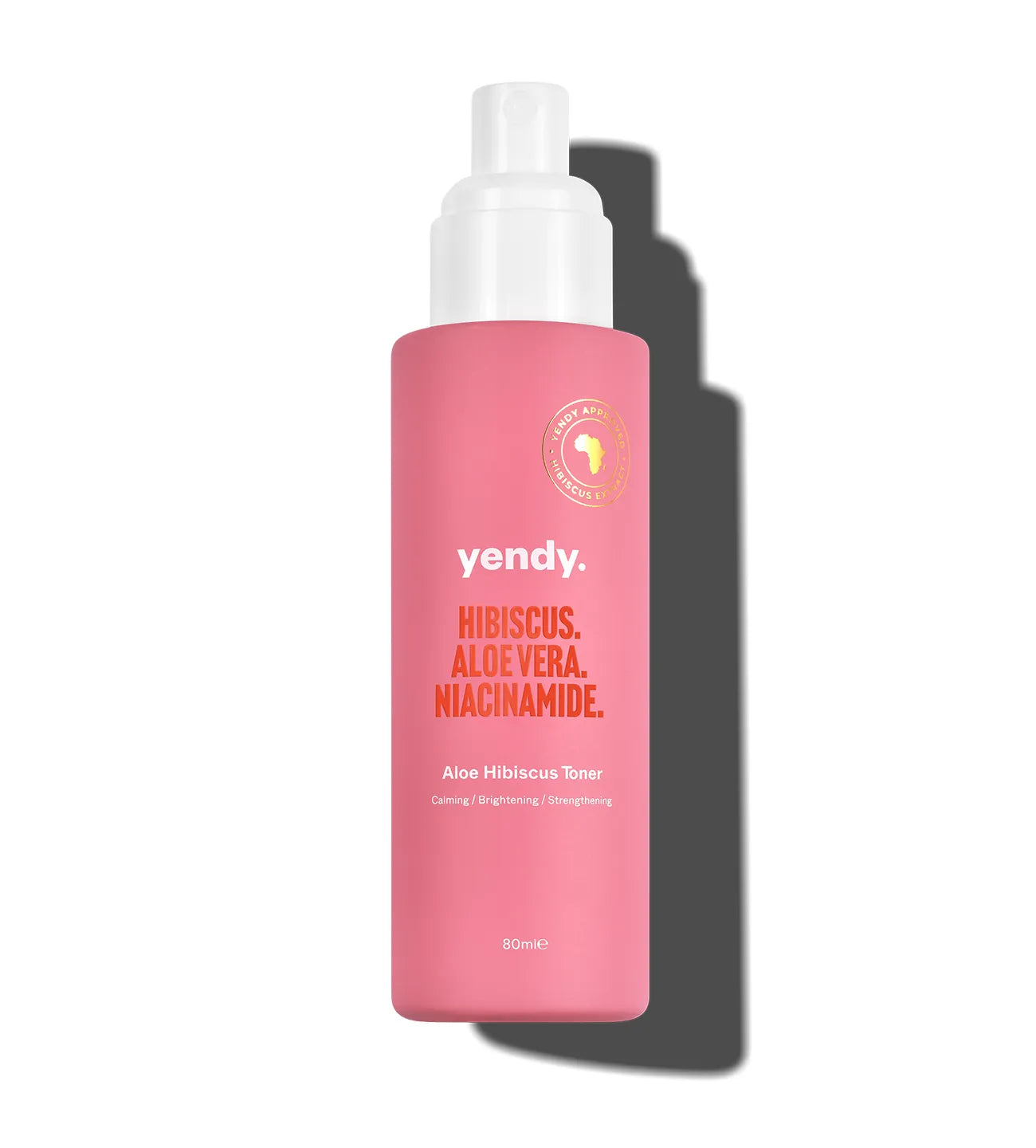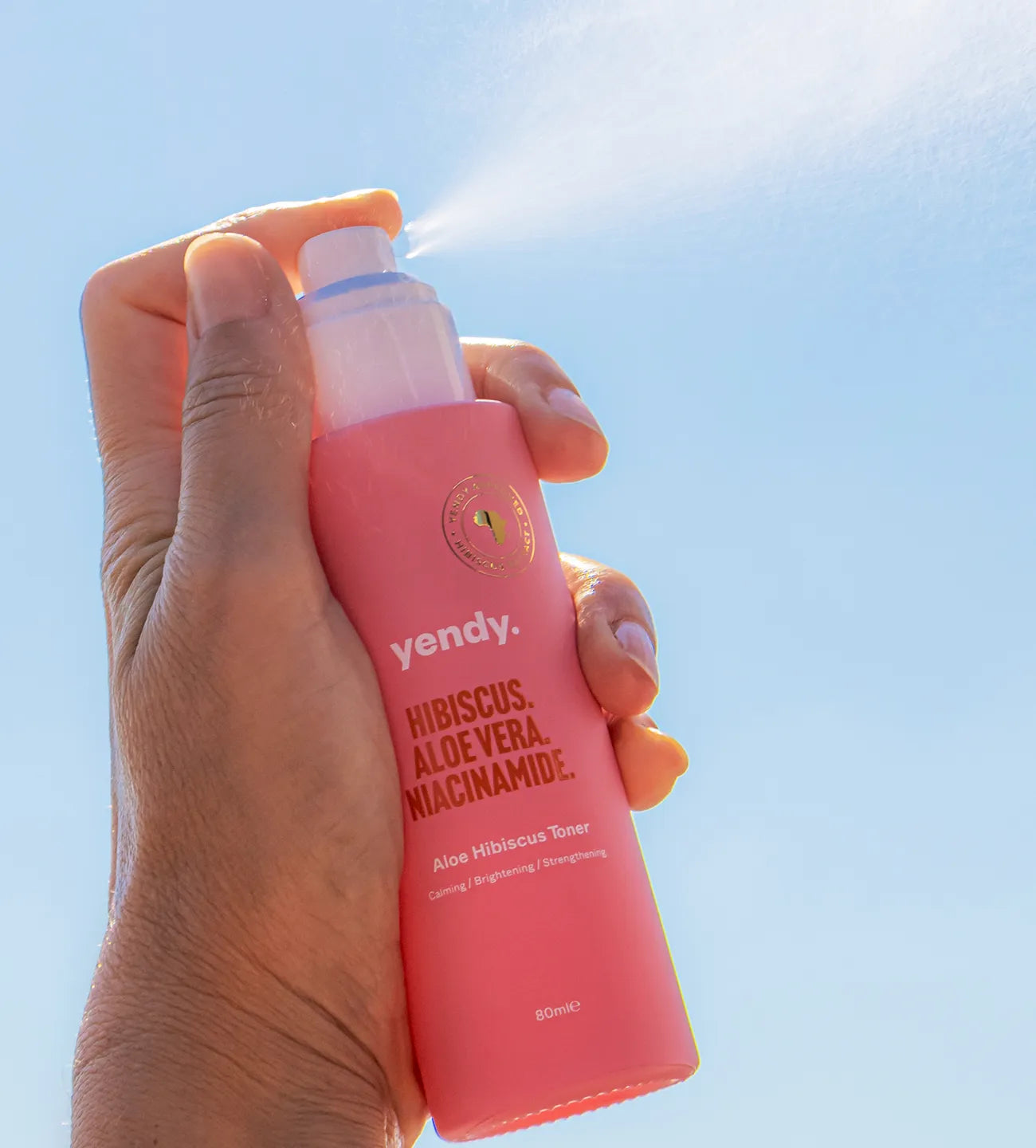 Description

Our revitalising Aloe Hibiscus Toner pairs Yendy Approved™ Hibiscus, Aloe Vera, and Niacinamide to level out the pH of your skin. It's formulated to clear away impurities, and hydrate deeply for a brighter complexion. It also primes your skin for maximum results from other products.

BENEFITS

Gentle Exfoliation: Effectively exfoliates the skin, promoting a smoother and refined texture.
Enhanced Radiance: Brightens the complexion, reducing dullness and revealing a natural glow.

Deep Hydration: Provides long-lasting hydration, leaving the skin plump and supple.

Soothing and Calming: Soothes and calms the skin, reducing redness and irritation.

Minimised Pores: Helps to minimise the appearance of pores, creating a more refined and even-toned look.

Even Skin Tone: Evens out skin tone, diminishing the appearance of dark spots and hyperpigmentation.

Improved Texture: Enhances overall skin texture, creating a smoother and balanced feel.

Nourishing Formula: Nourishes the skin with essential nutrients and antioxidants, promoting a healthy complexion.
INGREDIENTS

Aqua (Water), Niacinamide, Saccharide Isomerate, Glycerin, Aloe Barbadensis Leaf Juice, Panthenol, Citric Acid, Sodium Benzoate, Hibiscus Sabdariffa Flower Extract, Potassium Sorbate, Sodium Phytate, Sodium Citrate.
RECYCLING

Glass jar and twist cap components are 100% recyclable so can be disposed of in your domestic recycling.

1) Separate the glass jar and twist the cap

2) Rinse out all of the contents of the glass jar and cap

3) Put into the recycling bin
SHIPPING DETAILS

Orders shipping to the U.K are delivered using Royal Mail and delivered within 3-5 business days (Monday to Saturday) Free shipping occurs on all orders that are £40.00 or more.

For orders shipping to the U.S., we ship using USPS. Please expect delivery between 5-7 business days (Monday to Saturday) Free shipping occurs on all orders that are $50.00 or more.

All shipping destinations outside the UK will receive tracking numbers in the order confirmation email. If you have any questions please do not hesitate to reach out to a member of our Customer Success team at hello@yendyskin.com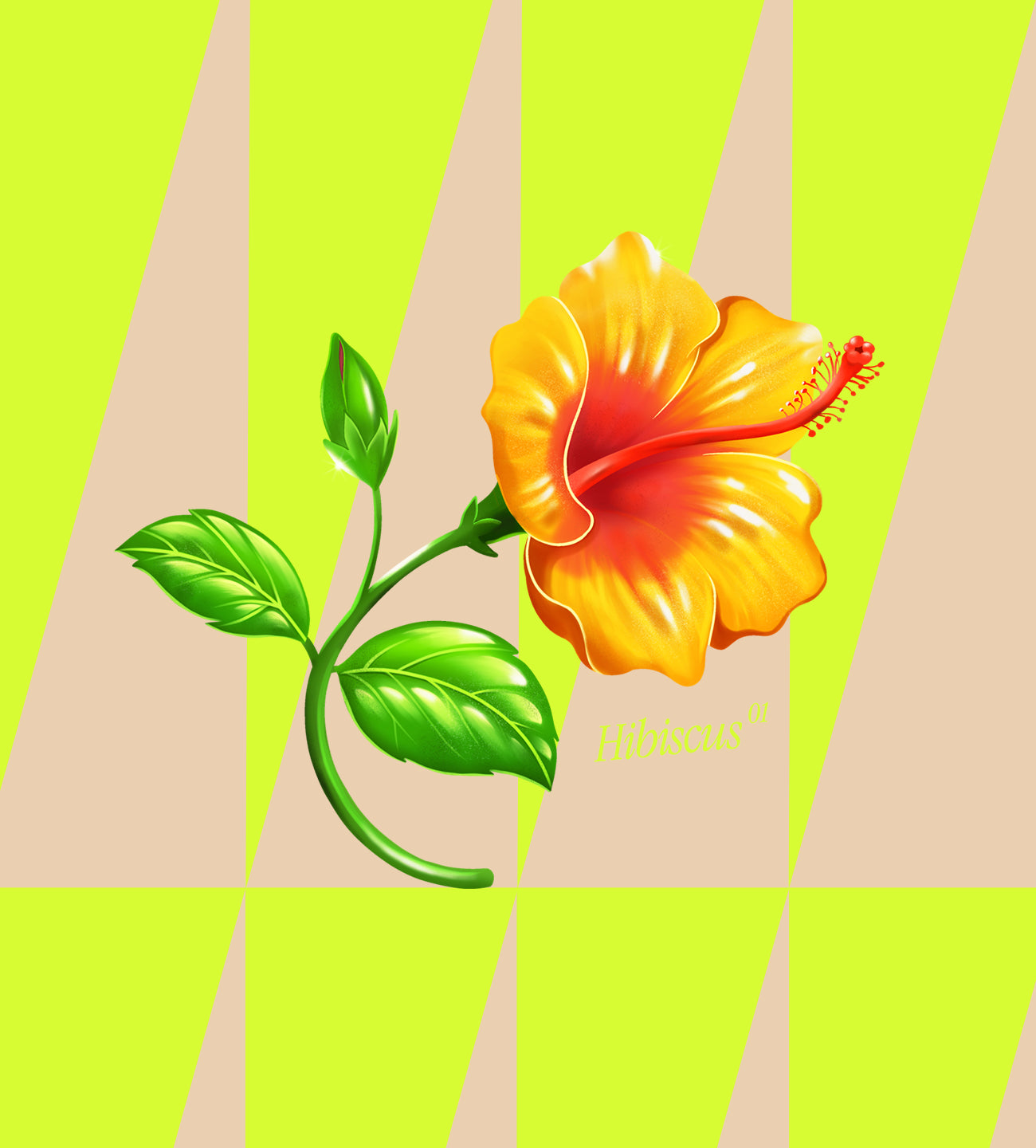 CORE INGREDIENTS
HIBISCUS

Our Yendy Approved™ Hibiscus contains beneficial antioxidants such as vitamin C that provide brightening effects and help even out skin tone for a glowing, radiant complexion. The natural acids in hibiscus also promote cell turnover to minimize the look of fine lines, wrinkles, and other visible signs of aging. Using a toner with hibiscus can improve skin texture and illuminate dull, tired skin for a more youthful appearance overall.
aloe vera

Aloe vera is hydrating, soothing and cooling for the skin. It contains enzymes, vitamins and minerals that promote skin health, while also having anti-inflammatory properties to reduce redness and irritation. Using an aloe vera toner allows the skin to absorb these nourishing ingredients, leaving it calmed, hydrated and protected.
Niacinamide

Niacinamide is a form of vitamin B3 that has beneficial effects when applied topically. It regulates sebum production to minimise pores and acne breakouts, improves skin elasticity and tone, and evens out skin texture. Using a toner with niacinamide helps keep skin clear and balanced while reducing the look of fine lines, wrinkles and hyperpigmentation.
APPLICATION
Hold the spray bottle 6-8 inches from your face, close your eyes, and mist the toner in a T and X motion. Alternatively, you can spray the toner onto a cotton pad and gently apply it to your face for more controlled application. Allow it to absorb for a minute before applying serum and moisturiser. Adjust the spray for a fine mist and use as a quick refresh throughout the day.