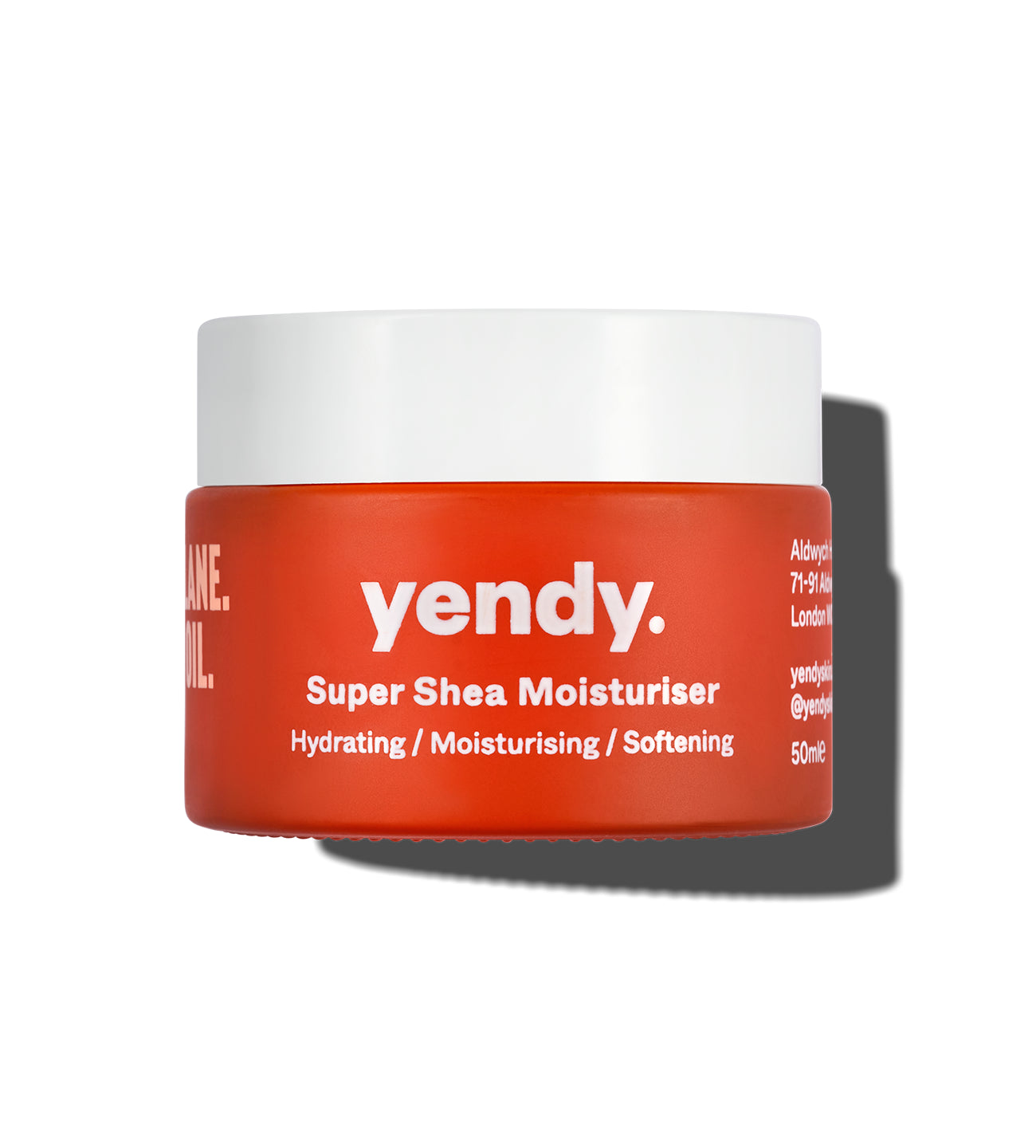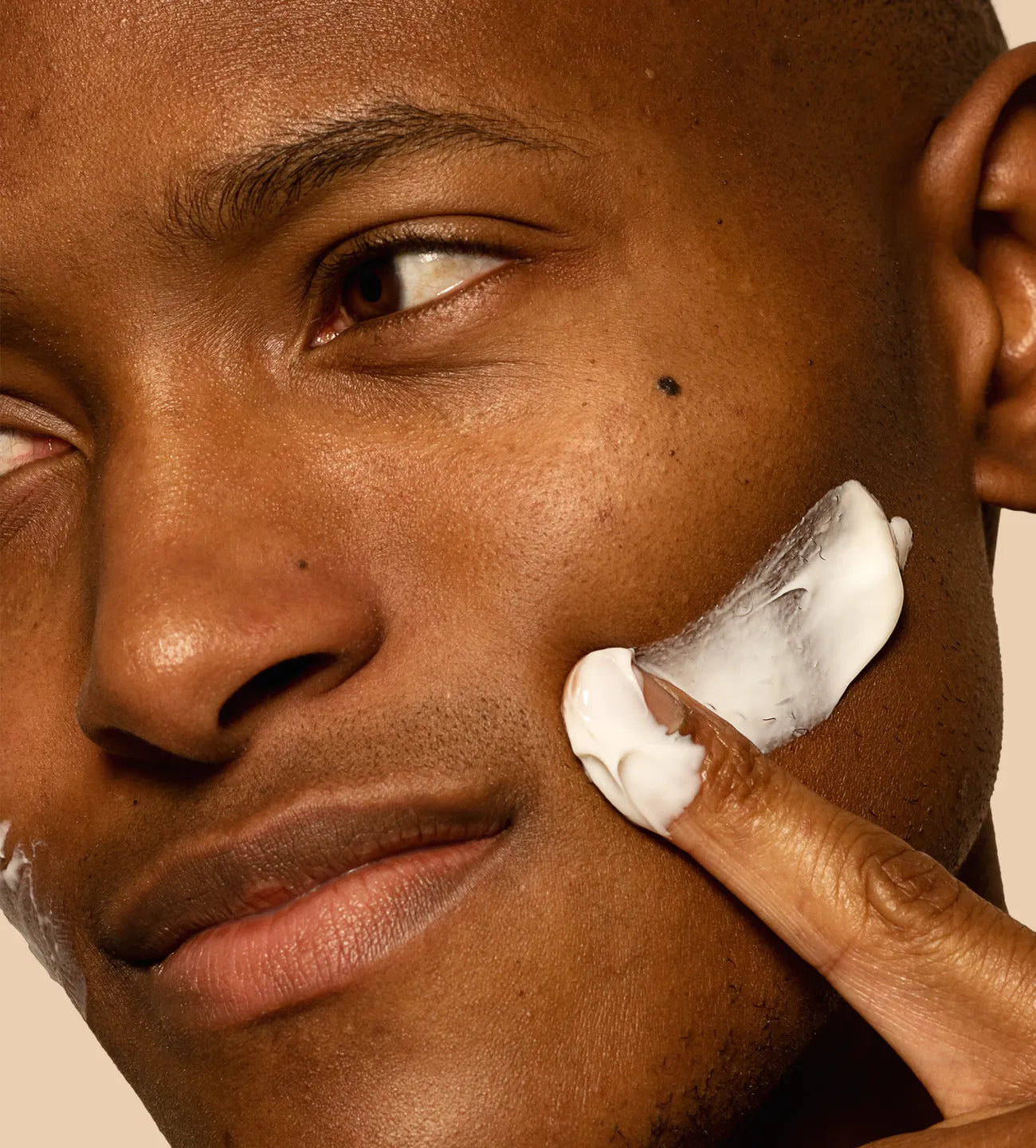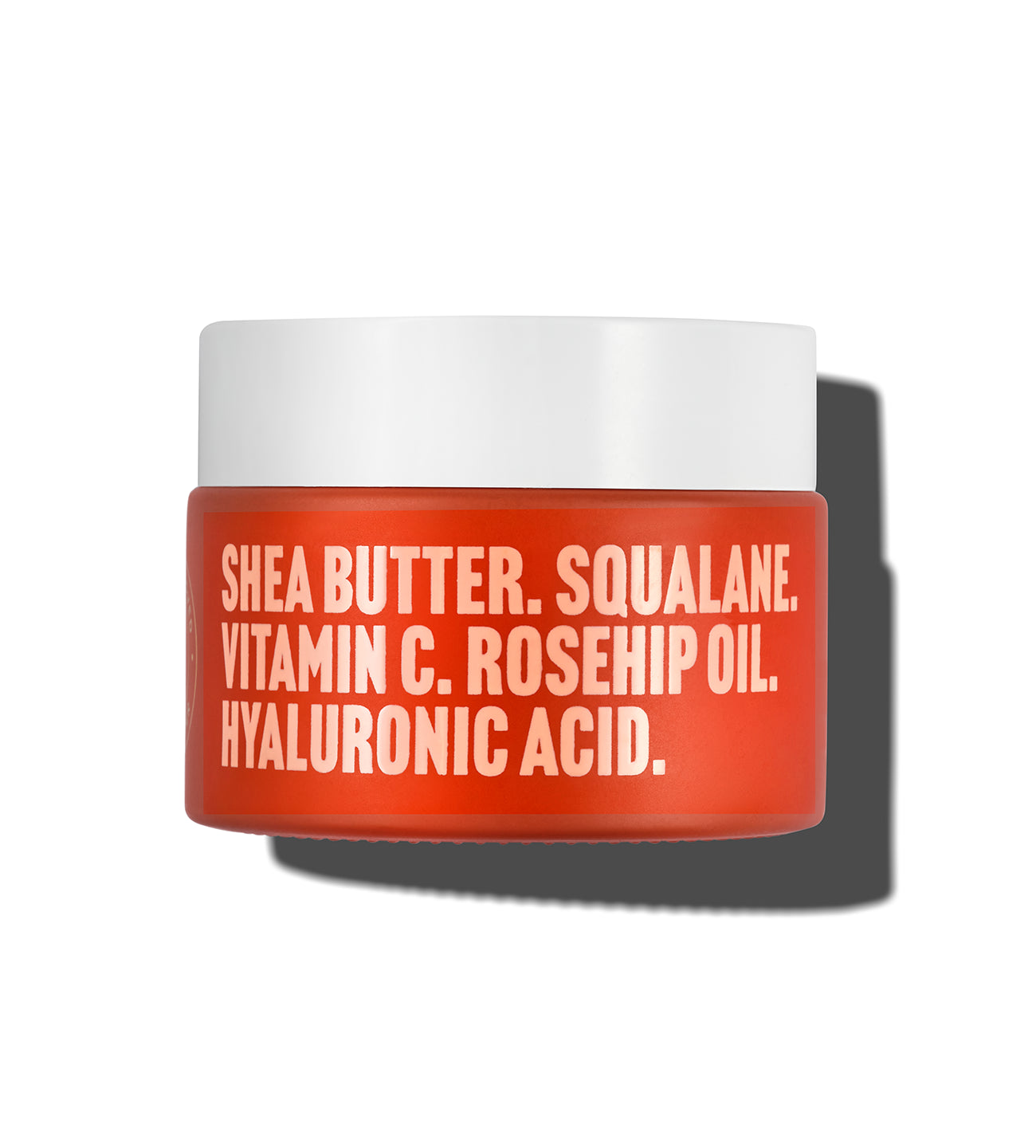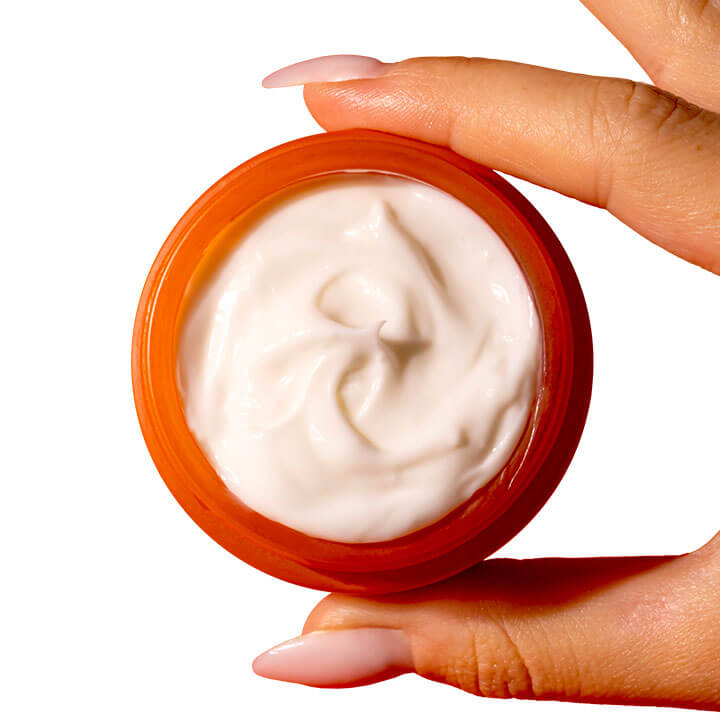 Description

A super lightweight and fast-absorbing moisturiser formulated to hydrate, firm, and even the skin tone. Minimises the look of discolouration and dark spots with Vitamin C, Rosehip Oil, and Squalane. Shea Butter & Hyaluronic acid locks moisture all day and night to keep skin feeling hydrated and protected. 
BENEFITS

Deep Hydration: Our Super Shea Moisturiser provides intense hydration, replenishing and restoring your skin's moisture balance for a plump and supple complexion.

Nourishing Formula: Enriched with shea butter, this moisturiser nourishes your skin, leaving it irresistibly soft, smooth, and deeply moisturised.

Improved Texture: The Super Shea Moisturiser enhances your skin's texture, promoting a smoother and more refined appearance.

Radiant Glow: Experience a healthy, youthful glow as our moisturiser revitalises your skin, giving it a luminous and radiant appearance.

Protection: Packed with antioxidants, our Super Shea Moisturiser helps protect your skin from environmental stressors, keeping it healthy and protected.

Suitable for All Skin Types: The versatile formula is suitable for all skin types, making it an essential addition to any skincare routine.
INGREDIENTS

Aqua (Water), Glycerin, Coco Caprylate/Caprate (Coconut), Butyrospermum Parkii (Shea) Butter, Squalane, C10-18 Triglycerides, Cetearyl Alcohol, Ascorbyl Tetraisopalmitate (Vitamin C), Potassium Cetyl Phosphate, Benzyl Alcohol, Rosa Canina Fruit (Rosehip) Oil, Hippophae Rhamnoides Fruit Oil, Sclerotium Gum, Sodium Gluconate, Xanthan Gum, Salicylic Acid, Hydrolyzed Hyaluronic Acid, Sodium Hydroxide, Sorbic Acid.
RECYCLING

Glass jar and twist cap components are 100% recyclable so can be disposed of in your domestic recycling.

1) Separate the glass jar and twist the cap

2) Rinse out all of the contents of the glass jar and cap

3) Put into the recycling bin
SHIPPING DETAILS

Orders shipping to the U.K are delivered using Royal Mail and delivered within 3-5 business days (M-F) Free shipping occurs on all orders that are £40.00 or more.

For orders shipping within the U.S., we ship using USPS. Please expect delivery between 5-7 business days (M-F) Free shipping occurs on all orders that are $50.00 or more.

All shipping destinations outside the UK will receive tracking numbers in the order confirmation email. If you have any questions please do not hesitate to reach out to a member of our Customer Success team at hello@yendyskin.com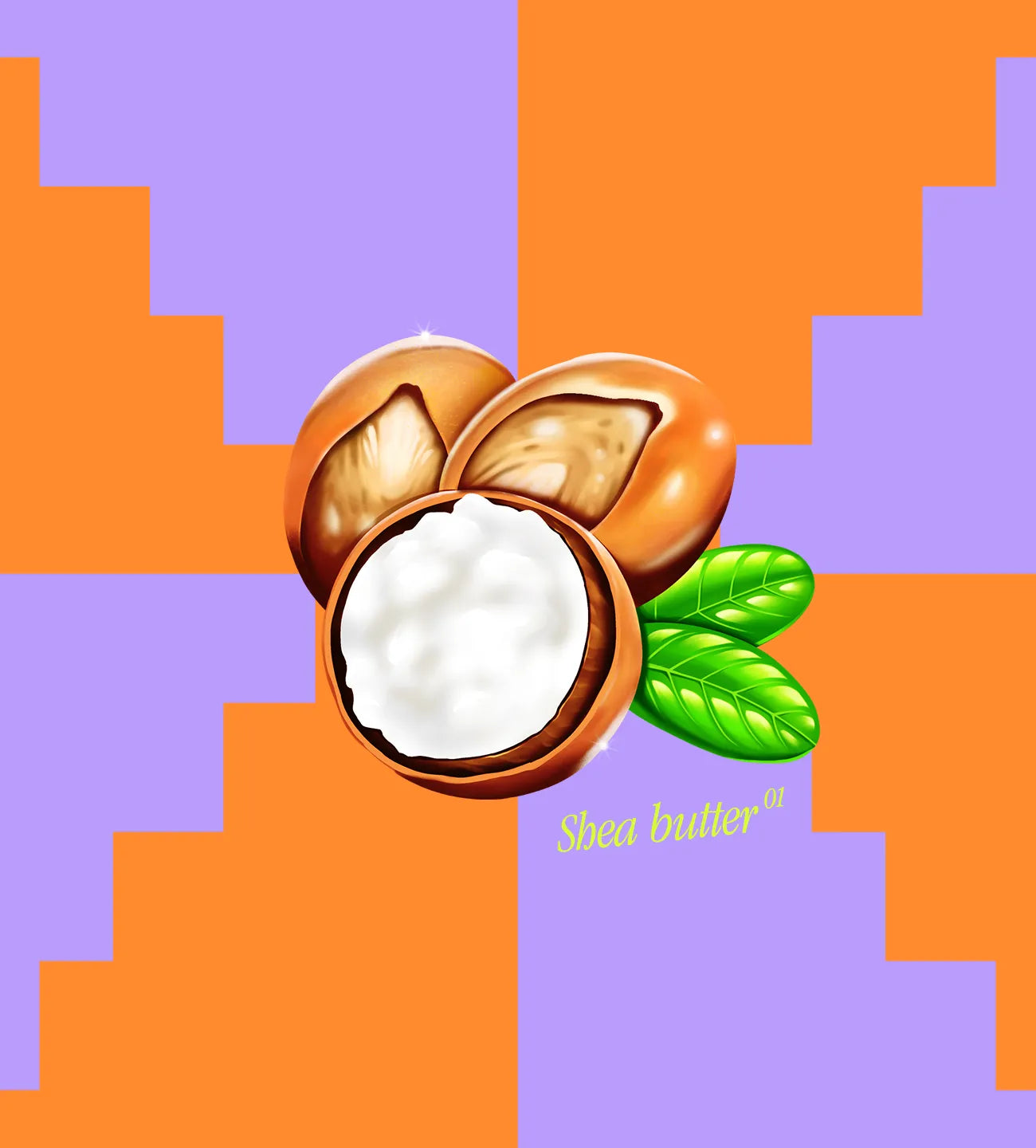 CORE INGREDIENTS
SHEA BUTTER

Shea butter is a skincare superhero known for its moisturising properties. Packed with vitamins and fatty acids, it deeply nourishes and hydrates the skin, leaving it incredibly soft, smooth, and supple. Experience the transformative benefits of shea butter in our Super Power Duo and unleash your skin's natural radiance.
SQUALANE

Squalane replenishes the skin's moisture barrier, improves hydration, and enhances elasticity for a more youthful complexion. It protects against environmental stressors, promoting healthier and radiant-looking skin.
vitamin c

Vitamin C is a antioxidant that helps to brighten the skin, reduce the appearance of dark spots and hyperpigmentation, and promote a more even skin tone. It also boosts collagen production, improving skin elasticity and reducing the visibility of fine lines and wrinkles for a smoother, youthful complexion.
rosehip oil

Rosehip oil is a deeply nourishing oil that moisturises and hydrates the skin, leaving it soft, supple, and radiant. It also helps to visibly reduce the appearance of scars, wrinkles, and hyperpigmentation, promoting a more even and youthful complexion.
Hyaluronic Acid

A powerful hydrator that attracts and retains moisture in the skin, promoting plumpness and smoothness. It helps to improve skin elasticity, reduce the appearance of fine lines and wrinkles, and enhance overall skin hydration for a youthful and rejuvenated complexion.
APPLICATION
After cleansing and toning, apply a small amount of our Super Shea Moisturiser onto your fingertips and gently massage it onto your face and neck in upward, circular motions. Allow the moisturiser to fully absorb before proceeding with additional skincare or makeup products.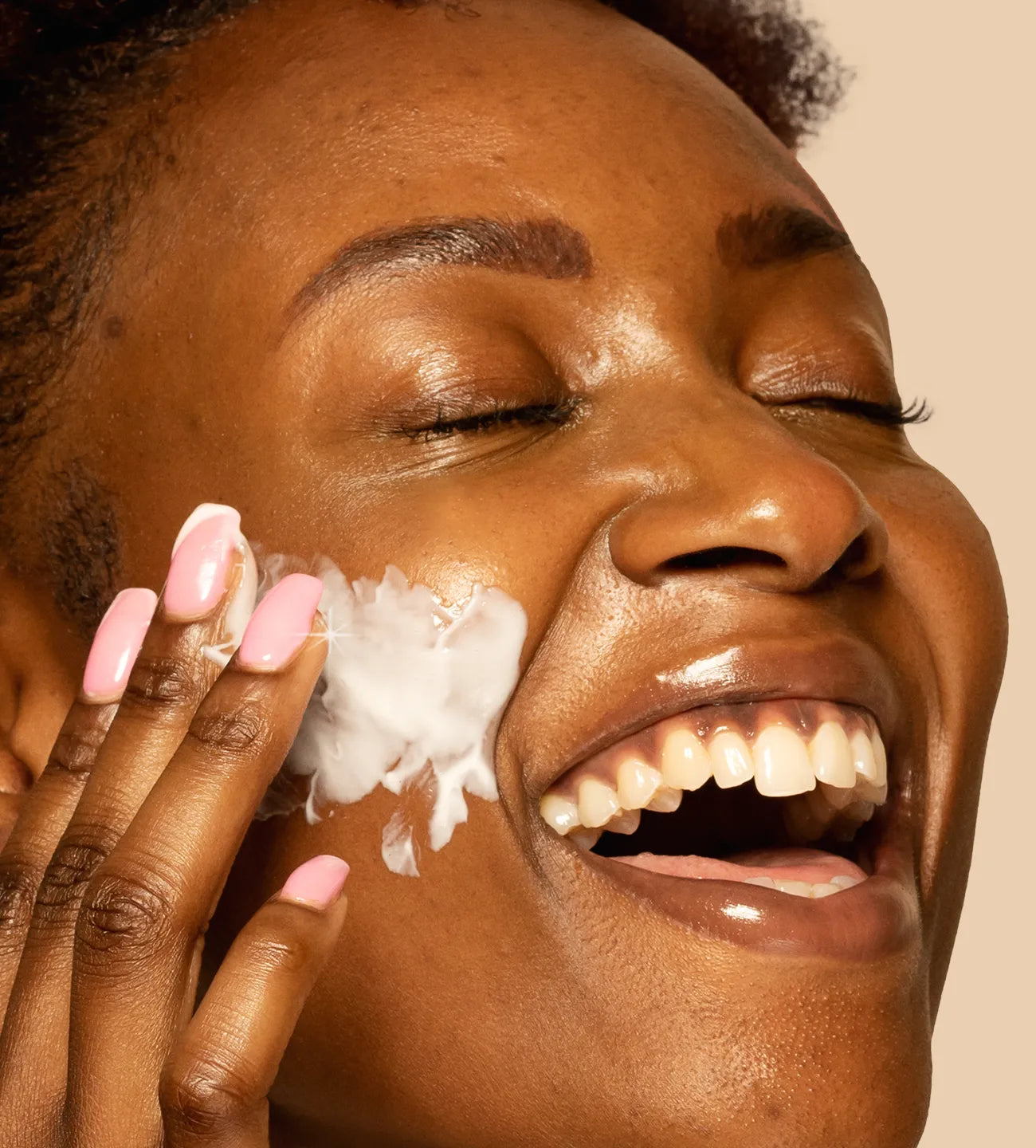 ★ 5.0
BASED ON 120 REVIEWS